This Land Is Your Land - Reinterprets A Classic

Michelle No
09Oct2009 . The Student Life

Many people know Woody Guthrie's song, "This Land Is Your Land." Most of us sang it in grade school, with our eyes raised to the American flag and our hearts bursting with juvenile pride for our country. The majority of us, however, remain naïve to the fact that before entering mainstream culture, the song did not have the patriotic connotations that it does today. In Guthrie's original version of the song the best known line was, "God blessed America for me," a lyric that conveys the songwriter's disdain for the unrealistic words of Irving Berlin's "God Bless America."

Today, "This Land Is Your Land," an exhibit by Los Angeles based artist Nuttaphol Ma, hopes to convey a similar thought to Guthrie's notion that "God Blessed America for me."

Using Guthrie's missing lyrics from "This Land Is Your Land" and an abandoned Japanese relocation camp Manzanar, Ma introduces the issue of displacement and migration. His subject is especially poignant at this time, when immigration reform is high on the political agenda.

Having recently graduated with an MFA from Claremont Graduate University, Ma is the current artist- in-residence of Pitzer's Emerging Artist Series, now in its third year. However, he is no beginner with contemporary mediums. His dense resume is a telling catalogue of site-specfic performances, solo exhibitions, and art installations that pack his relatively short art career.

"This Land Is Your Land" opened on September 24th in Pitzer's Lenzer Family Art Gallery. Ma's solo exhibition uses mirrors, dirt, wood, and concrete—all mediums that reference landscape, property, and self—to pose the question that the original version of Guthrie's song also posed: is this land made for you and me?

In the first room is a projected image of the early American flag featuring a coiled snake with a caption below that reads, "DON'T TREAD ON ME." Using stop-motion animation, the image of the snake is ripped, taped, and strung together. In one shot a baseball appears, to remind us of its unifying significance in our society. Today, the snake flag is used to represent American patriotism; this piece expresses the fragility of that patriotism.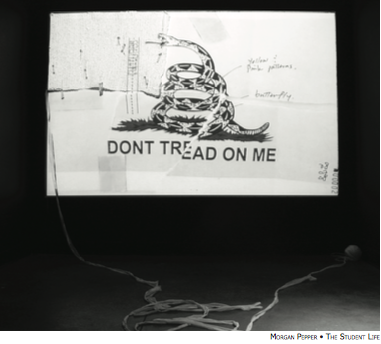 The same idea is carried through in an installation that lines one side of the main room. A diagonally stretched shot of Manzanar covers the wall, in front of which a row of eccentrically-assembled wooden stakes placed in dirt-filled concrete squares portrays a ghastly rendition of home. Phrases such as "If I had a hammer," "our house," and "tic tac toe wiggle my toes" are scribbled on the wooden stakes. These stakes suggest white picket fences, placing the image in an entirely new context.

Despite the United States' self-portrayal as an accommodating country, Japanese-American residents during World War II were relocated to internment camps like Manzanar without ever being convicted of anything. By juxtaposing the historical event with the cultural perception, Ma's installation asks whether foreigners can ever permanently claim a piece of American land for themselves.

On the opposite side of the room, aligned cut mirror and aluminum rectangles present a different kind of brick wall. Although a missing section of the wall may leave casual observers confused, an inscription next to the display reveals the brick wall to be a visual rendition of Guthrie's missing lyrics. In childlike penmanship, the lyrics read:

"There was a big high wall there that tried to stop me;
Sign was painted, it said private property;
But on the back side it didn't say nothing;
That side was made for you and me."



The omission after "that side"in the stanza aligns itself with the omission on the walls. They ask their observers to fill in the blanks and interpret the line that has, by revision of its context, become one of the most famous patriotic lyrics in the country.

Finally, by orchestrating an installation of reflected light, distorted stakes, and plastic yarn, Ma alludes to the immigrant's journey of the promise, the effort, the reality, and, finally, the hope.